Conversion Rate Optimization
Conversion Rate Optimization
Transform your website into a money machine.
Conversion Rate Optimization is related to the study of visitors, leads and customers within the website of your company, in order to reduce or extinguish conversion bottlenecks, but please, do not confuse it with the Bounce Rate.
Study your business and market:
For all the change made in the future to be effective, we will begin with a market study, to find out how it really works in the digital environment. How does your consumer find you? How does your consumer behave? Who are the main players on the market today? And the weakest? After understanding your ecosystem, we will understand how you can make more money.
Quantitative Analysis:
By using your current measurement tools (such as Google Analytics), we'll incorporate some tools to bring you valuable insights, so we'll find out whether or not it works on your site. What opportunities should be priorities? Is there a page that is making you lose money?
Qualitative Analysis:
Decision-making should not be based solely on quantitative data. Through agile research processes, we'll get information coming directly from your target audience, where we can answer questions such as: What makes your customers buy from you? Why do your potential leads end up giving up on the purchase?
Identification and Prioritization of Opportunities:
Believe it or not, but when we get to this stage, we will have numerous points to discuss. New opportunities or improvements from the current ones will be discussed in our meetings, from this point on all studies and insights will make sense for your business to take an even more prosperous course.
A/B Opportunities Tests:
After choosing the opportunities, we will create wireframes, copywriting, designs and html of the changes to be made. Each suggested change will be done an A/B test, which is the most scientifically reliable way to assert that one particular version is better than the other.
Publication of the Winning Opportunity:
When the A/B test is finalized, we will have confirmation of which transformation will bring you the most financial return, and thus we end a cycle and affectively publish the change.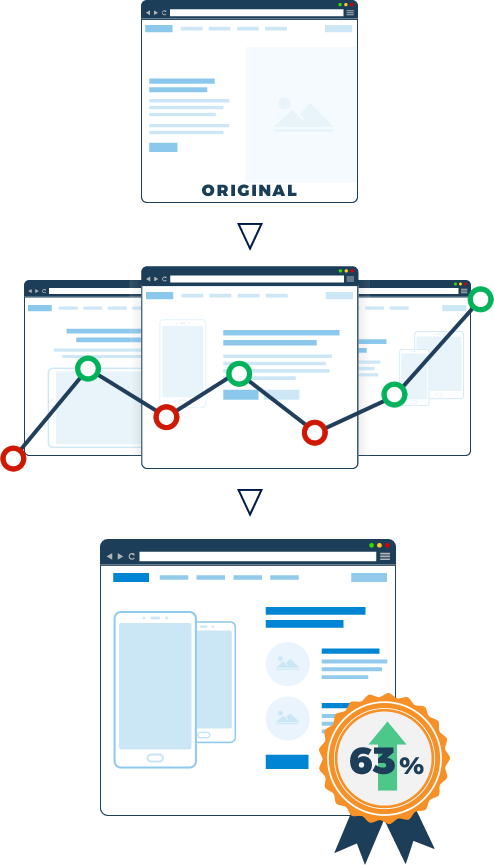 We want you to reach the success!
Regardless of your company's current goal, we are able to deliver the ideal, tailor-made solution for you to achieve your goals and succeed in the digital market.
Get in Touch