Be found when searching for
your products, services and business.
Our Media Buying Purchase Mindset
Investing in online advertising, whether in a search engine (Google) or social network (Facebook or Instagram) can be done and managed by anyone. But campaigns without goals, without measurement, without quality and without professional accompaniment, can take your investment down the drain. It is with this thought that we faithfully follow the following steps:
1
Planning
and Research
We will evaluate your expectations, investment and competition, in search of the best opportunities to deliver better ROI.
2
Experiments
and Evaluations
With the opportunities raised, we will create the Ad Sets and evaluate which ones will have the evaluation preference so that you get quick returns!
3
Learning
After the Ad Sets are launched, our learning with your target audience is immediate, we will evaluate how they use and convert your interaction and conversion pages.
4
Expansion
The time has come to exponentiate, with the certainty that we find the Ad Set that converts your best leads, investing gradually more is almost inevitable for increased revenue.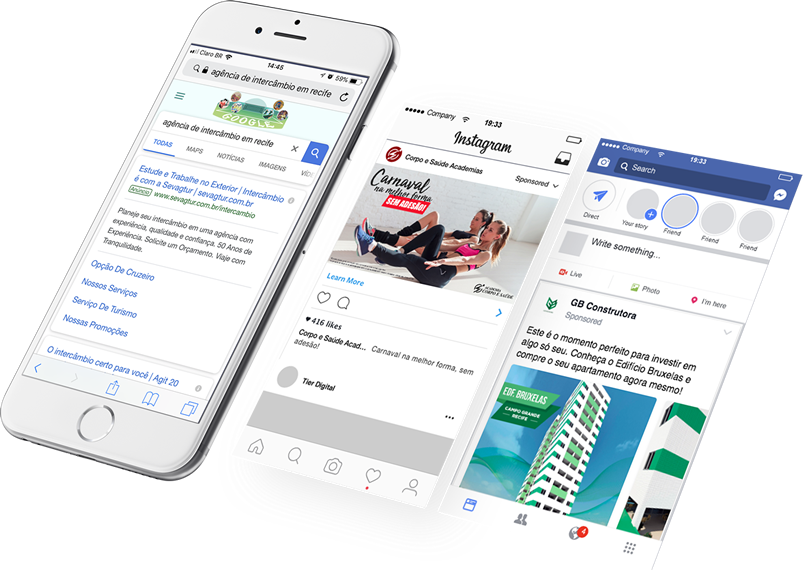 Search
Search Ads has the ability to act at any of the times of your lead or consumer purchase journey, from recognizing the need, searching for information about your product or service, evaluating the best options up to the moment of decision of the purchase.
Display
With the power of visual impact, Display Ads are great for companies that aim to improve brand branding. Through this style of advertising, we can insert content such as texts, images, videos and interactive media, which will appear on the Google Display Network.
Video
This Ad form is accessible to any size of business. Video ads on YouTube are very effective and one of the best ways to bring new traffic to your site and capture customers you could not reach before with search ads.
Shopping
With a strong positioning, Shopping Ads appear above Google search results. In which always include images of the products, values and information of the stores. As just for e-commerces they can advertise, they tend to possess better click rates.
Remarketing
Known as the Pursuit Ads, Remarketing is a functional way to get involved with your target audience by presenting your ads in a more targeted manner by making sure that your brand, products and services are consumed or sought after, conversion rates are higher.
Social
Advertise on social media is very effective due to the number of users that platforms have. In addition to Branding, campaigns can be created for the purpose of direct response, lead generation or sales, for example. Whatever your goal, we can segment your Ad Sets by sex, language, location, age, and interests, among others.
We want you to reach the success!
Regardless of your company's current goal, we are able to deliver the ideal, tailor-made solution for you to achieve your goals and succeed in the digital market.
Get in Touch