Website
Design & Develop
Website
Design & Develop
Websites focused on converting leads.
We believe that a good site design project should be focused on the user experience as it influences the decisions the user will make on their site, whether they continue reading other articles, subscribe to a newsletter or even fill out a quote form. Our multi-disciplinary team of UX designers, digital strategists and architects will conduct your project with your client's vision and expertise to deliver an action-oriented project.
Institutional
Not having an institutional website these days is as if the company did not exist. We develop websites that are dynamic, secure, focused on conversion, integrated with social networks and can be accessed from any device, be it a notebook, tablet or smartphone. Owning a website is essential for any company that wants to grow through the internet.
Blog
Used to focus and distribute content, the Blog creation project may be to have a portal or additional functionality to your institutional site. Your Blog will have the facility to maintain a relationship with your visitors, leads and consumers through a more intimate way, as well as being a great tool to sell your products and services in a more subtle way.
Landing Page
In order to drive visitors to produce conversions for your business. After you convert the user to lead, you will have the information you need to start a relationship with your prospect so that you have the opportunity to do business in the future.
Hot Site
Known as a temporary project, with pre-defined entry and exit dates. The Hot Site development project aims to emphasize an advertising action in a timely manner. Usually used to launch product launches, services or events, they have a targeted message, with great design and many interactions and animations.
1
Planning and Research
For Tier Digital planning and research is the most important part of the process of creating your website. Through the sharing of knowledge of the client and stakeholders, we will achieve the expected objective for the project to be developed. Our searches will be around your target audience, creative briefing, competitor analysis and branding attributes.
2
Scope and Conceptualization
Through the creation of sitemap, wireframes and layouts, we ensure that the purpose, contextualizations, integrations and calls for action are made in a professional manner, without forgetting anything. In addition to showing a detailed view of the project to be developed. Although they show no real interaction.
3
Execution and Testing
Right after the approval of the sitemap and layout, we started the development process. New content, refinement of old content, the creation of new media (images, audios, videos and etc), features and integrations will start to be part of your new site. Before your site is launched, your project will go through testing for a week, where you can share it with your entire team to find misspellings, design, and features.
4
Validation and Publication
We have reached the best stage after everything has been tested, reviewed and approved by you and all stakeholders, we are ready to publish. When the project was launched the work did not end, on the contrary, it just started. You'll have a conversion machine ready to make you profit, so it's time for you to shift your efforts to digital marketing.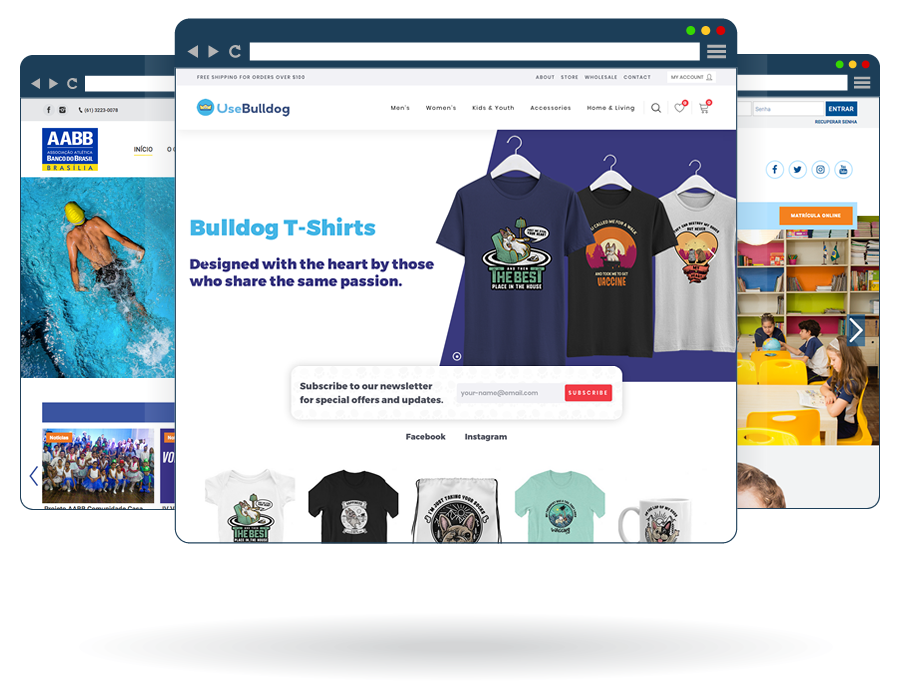 We want you to reach the success!
Regardless of your company's current goal, we are able to deliver the ideal, tailor-made solution for you to achieve your goals and succeed in the digital market.
Get in Touch